I use this caramelized red onions recipe as one of our family's favorite pizza topping (with Gorgonzola cheese). This recipe yields one large or two small pizzas. Check out my Gorgonzola pizza with caramelized red onions recipe.
The secret ingredient gives it an extra caramel flavor and tanginess, making it irresistible. See below.
These caramelized red onions are just delicious on their own, in a salad, or as a pizza topping for your vegetarian pizza.
Use them right away, or store them in the fridge in an air-tight container for days.
The Secret Ingredient
And the secret ingredient is: Pomegranate syrup (a.k.a pomegranate molasses). Yes, this middle-eastern condiment goes extremely well with your caramelized red onions. Check out the recipe and try it for yourself!
Tip: Don't worry tough if you don't have it at home. Just follow the recipe without the pomegranate syrup, and you caramelized red onions will turn out just great!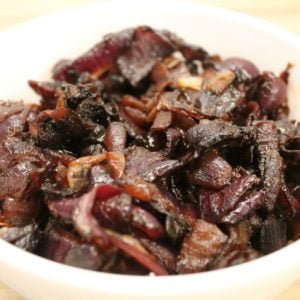 Caramelized Red Onions
Ingredients
4

medium

red onions

(approx. 600 g or 21 oz)

½

tbsp

olive oil

½

tbsp

pomegranate syrup
Instructions
Peel your red onions and cut them in half, then into 3/8-5/8 inch (1-1,5 cm) slices.

Heat up a non-stick skillet. Add 1/2 tbsp olive oil then the red onions. Turn the heat down immediately to low – medium-low.

Stir every 3-4 minutes for 30 min.

Add 1/2 tbsp pomegranate syrup at the end, and stir for another 2 minutes.