Mushroom paprikash (sometimes inadequately called mushroom goulash in English) is a flavorful mushroom stew, one of the staple foods of Hungarian cuisine.
Mushroom goulash is an easy to make vegetarian dish, one of the paprikash family. Although a vegetarian dish, it has the same strong flavors than it's big brother, chicken paprikash. I really urge you to try it, it's incredible how these complex flavors can develop from such simple ingredients.
Mushroom Goulash In Hungary
As mushroom goulash is very easy to make and button mushrooms are not only easily available but very cheap, this dish is often served as part of low-budget workday menus in Hungarian homes or canteens.
But as it is also very tasteful, you can find mushroom paprikash in almost every restaurant that serves Hungarian food.
Make it and try it, and let your kitchen be colored with a dish that can be only compared to the best vegetable curries of Indian cuisine.
Mushroom paprikash is served as a main dish, mostly with galuska. If no galuska is made, you can serve it over any kind of pasta, or even rice.
In this pictures you can see a very unique, fusion presentation: mushroom goulash over couscous.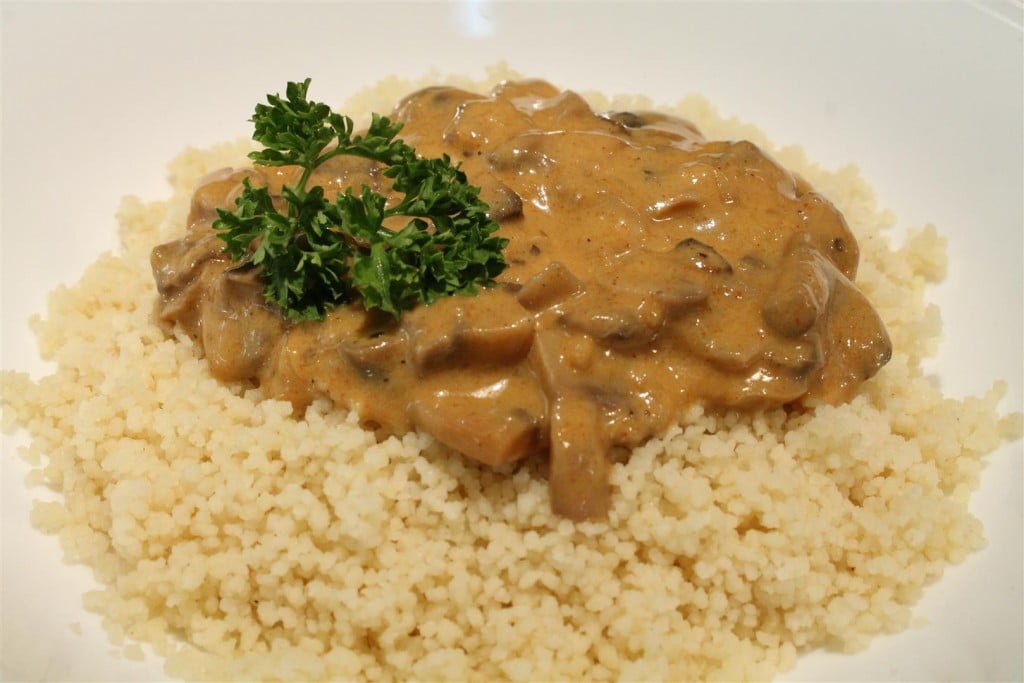 Mushroom Goulash or Mushroom Paprikash?
I see often times this dish is called mushroom goulash in English. Although this can be kind of the right usage in English, in Hungarian this is simply a paprikash.
Goulash in Hungarian is a thick soup, made with meat (or sometimes beans) and root vegetables. This dish is more like a mushroom stew than a soup, and it doesn't have any root vegetables. Also it has one ingredient that you never see in an authentic Hungarian goulash: sour cream.
So if you want to be authentic regarding Hungarian food, please note that this mushroom stew is definitely a mushroom paprikash and not a goulash.
Hungarian name: gombapaprikás.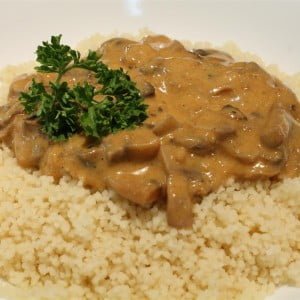 Mushroom goulash (mushroom paprikash)
A Hungarian staple food, one of the best things that can happen to mushrooms
Ingredients
2

lbs

button (champignon) mushrooms

900 g

2

onions

medium

13

tbsp

sour cream

(200 ml)

6

tsp

paprika

½

tsp

ground pepper

2

tsp

salt

2

tbsp

flour

4

tbsp

vegetable oil

2

cups

water

(480 ml)
Instructions
Chop the onions and slice mushrooms 1/4-1/3 inch (5-8 mm) thick.

Sautée the onions in oil over medium heat until golden, for about 8-10 minutes. Lower the heat, add 4 tbsp (60 ml) water and let it simmer.

Cook the onions for about 30 minutes over low heat, adding 4 tbsp water at a time. (You can skip this step if you have no time, but this will create the nice and thick sauce for the onions.)

Take off the heat, add paprika and stir.

Add sliced mushrooms, salt and pepper, stir and let it simmer for 5-10 minutes without adding any liquid.

Mix sour cream with flour in a bowl, add 4-5 tbsp of mushroom sauce to avoid lumps.

Pour the sour cream mixture over the mixture, stir and let it cook for 2 minutes so that the flour thickens your mushroom goulash.