Budapest Basilica – St. Stephen's Basilica – is located in the center of Budapest, close to Deák and Vörösmarty squares. The monument is very popular among both tourists and locals – not surprisingly since it's one of the most beautiful sights of the city. It was named after the first king of Hungary, Stephen I of Hungary. The Basilica Budapest was built in Roman-Catholic style and it's the third largest church in the country today.
Short history of the Basilica Budapest
This Basilica in Budapest took over 50 years to build. Construction started in 1851. It was built in place of an 18th century theater that occupied the same area before the construction of the basilica. A wealthy citizen, János Zitterbach bought the building and had a small church built – it was the first parish of this part of the city (Lipótváros).
Pope Pius XI awarded the building the title of basilica although in architectural terms, it's a cathedral. Architects Jozsef Hild and Miklós Ybl led the constructions and St. Stephen's Basilica finally celebrated its opening with an inaugural ceremony in 1906.
Over the last century, the Basilica has been renovated a number of times due to damages.
Budapest Basilica today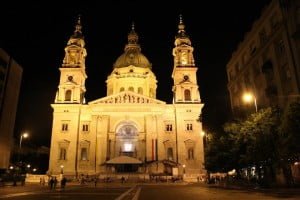 St. Stephens Basilica is often called Central Basilica Budapest among tourist, as it is located in the very heart of the city. More than just a church, the Basilica serves a number of other purposes: several concerts and other events take place here, such as night prayer, meetings of religious clubs, celebrity weddings, organ concerts. The list of current events can be found on the official website of St. Stephen's Basilica: http://www.bazilika.biz/.
Besides the venues, wonderful altar-pieces, bells and sculptures await visitors every day.
How to get to St. Stephen's Basilica in Budapest
St. Stephen's Basilica is easily accessible by public transport and foot in the center of Budapest. It is 1500 ft (450 m), a 5 minutes walk from the main subway station Deák tér where all 3 metro lines cross. You can take subway line 1 to Bajcsy-Zsilinszky út, or line 3 to Arany János utca to get even closer.
Use to following map to plan your route to St. Stephen's Basilica (click on the POI dot sign to get directions):
Opening hours of the Basilica
As of the publication of this article
Monday-Friday: 9:00-17:00
Saturday: 9:00-13:00
Sunday: 13:00-17:00
The admission fee is 200 HUF/1 Euro.
Photo: sxc.hu Robert Horvath and olddocks.