So you finally decided to start your dream food blog, but now the big question is: HOW? In this article, I'm going to help you set up your food blog with easy step by step instructions and write your first post.
Hello, my name is Balazs. I started food blogging in 2011. I'm running 2 successful food blogs in my native language, and what you're reading now is my English cooking blog Spicy Goulash.
I have about 10 thousand visitors every day on my other 2 blogs (which is pretty impressive in a market with only 10 million people), so you've come to the right place to get the tricks and tips on starting a food blog in 2019. (I also make some passive income off of my food blogs, but more on that later.)
Does Starting a Food Blog Require Technical Skills?
Good news: starting a food blog in 2019 doesn't require any tech-skills anymore. Still, you have to go through some technical steps, but they are extremely easy, and you can do all the process literally in 20 minutes and have your blog running.
Then once you have your food blog installed, you're ready to post your best recipes. And believe me, this is the beginning of a beautiful friendship journey. In this adventure, you'll have the opportunity to share your recipes with thousands, tens or hundreds of thousands, or even millions of people. And maybe also make some income later down the road…
Now let's get to the work, and see how can you start a food blog in 2019!
Starting a Food Blog #1: Find the Name of Your Blog
I have to tell you, finding the best name for your food blog might be the hardest part. And this step is very personal, so no general advice can be given.
Here are a few tips though on how you can find the best name for your new food blog:
You might have already come up with an idea. Just go ahead and use that!
If you have special interest in some kind of food, you can somehow include that in your blog's name.
On the other hand, don't limit yourself to only a couple of recipes with the name you choose.
You can feature your name in your blog's name, making it more personal.
Choose something that is easy to remember. In the long term, blogs with unique, brandable names generally outperform those where you only stitch some words together.
Never forget: You don't have to be funny. You have to be easily remembered!
Be creative. There are so many food blogs out there with the same boring name structure, please find something that you can be remembered. Here are a few interesting names of successful food blogs, to give you some inspiration: Cookie and Kate, Joy of Baking, seven spoons.
Starting a Food Blog #2: Find the Virtual Home for Your Blog
This includes your new domain name (internet address) and a reliable web host.
My advice is to avoid free blogging platforms like blogger for your food blog. Instead when using your own domain, you have so much more flexibility and more opportunities. You can choose from thousands of website themes, you'll have your own domain, and would you ever decide to monetize your food blog, no way you can do it using a free platform.
The only downside of having your own domain is the cost of the domain and hosting. But that's under $10 per month at Bluehost, the service I'm using to host my blog. And come on! If you really think this blogging idea seriously, don't tell me that you let the price of two Chocolate Mochas per month get into your way?!
Choose Your Domain Name
Your domain name will be the address of your food blog. Like SpicyGoulash.com in my case.
The best advice is to use your blog name as your domain. As far as the TLD (top level domain, like .com, .net, etc.), I recommend you stick with .com. This is by far the most popular TLD, and if someone wants to find you later by your name, they'll surely type in .com instinctly.
You can check if your preferred name is still available here below. (Enter your preferred name and click on "Check availability", it'll open in a new window.)
Bluehost will check if your domain is available. If not, you'll be prompted to try another domain name. Just type in another idea into the input field marked red and hit "next".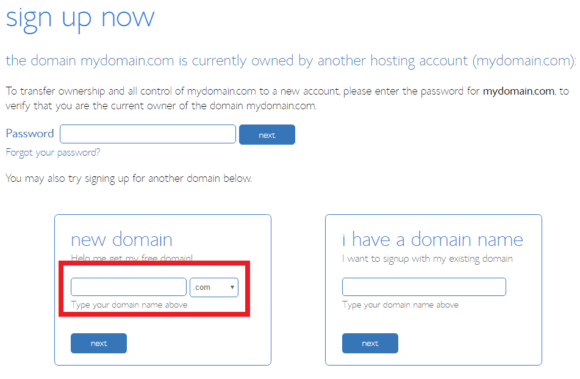 Set Up Your Web Hosting
If your desired domain name is available, you are ready to set up your web hosting account. This is basically a small portion of a web server, a computer that will be online 24/7 with your food blog.
Type in your personal data in order to start your plan (Bluehost gives you a 30 days money-back guarantee), your payment information, and select your package settings.
Some tips on choosing the right package and options for your food blog:
With the Basic plan you can host 1 domain, and that's all you want when starting your first blog.
Don't worry, you'll be able to change your plan later, should you decide to start another blog.
If you plan your food blog to be online for years, you can choose a 24 or 36 months plan, saving on your monthly prices.
I would turn off every other features, should this be my first blog. You won't really benefit from them. But feel free to read the information provided on the extra features, and choose according to your preferences.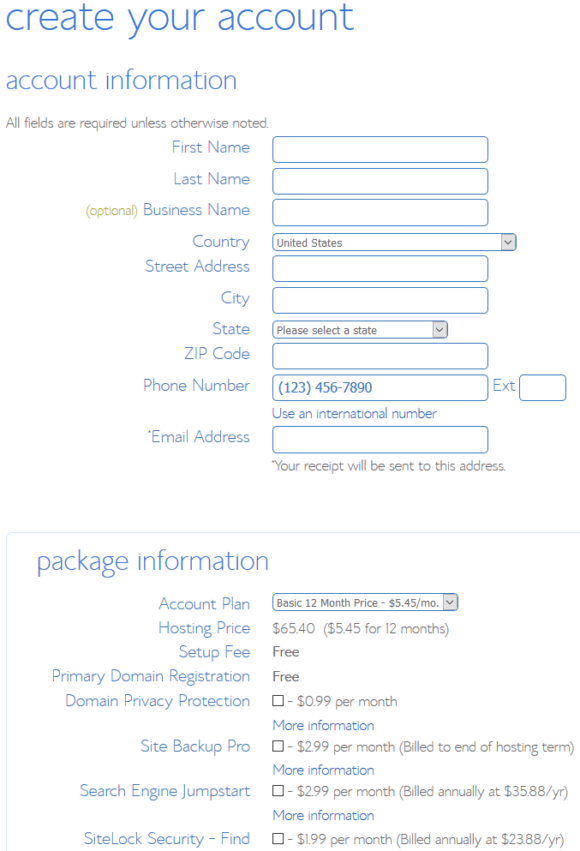 Once you hit submit and complete your registration, you'll receive an email with the details on how to login to your web hosting control panel (cPanel). This is all you need to get to the next step, to install your free content management system (CMS, the web program that will manage your blog's content).
Please note that when you install your Bluehost account via my website (i.e. clickin on the link), I get a small amount for the recommendation.
Starting a Food Blog #3: Install WordPress
WordPress is the software that will take care of you blog posts, pictures, menus etc. It is a content management system, the one that's used by more than 50% of all websites. And it's completely free.
Log in to your Bluehost cPanel, simply click on the "Install WordPress" icon to begin the extremely easy installation.
Sometimes you see an ad of the Bluehost Marketplace here, but simply hit "Get Started" to proceed with the installation.
In the next step you'll be prompted to select your domain to install WordPress on. If this is your first domain, you won't have many options here. The only option is whether to use www or not – which is totally up to you. Select your domain and hit "Next".

Bluehost will prompt you to set up your Website's name, your username, email and password. You can always change these later in your WordPress admin panel, except your admin username.
So fill in these fields, check everything that needs to be checked, and hit "Install".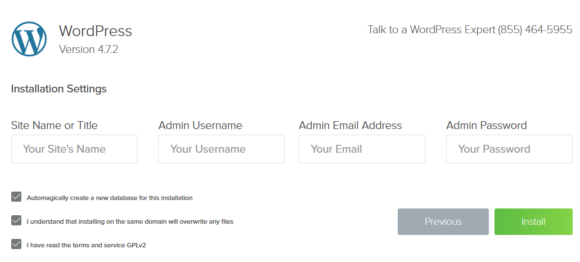 Your WordPress is now being installed. In the meantime, you'll be prompted some ads again to choose a premium WordPress theme from the marketplace. No need for that, I'll show you later how to install a beautiful theme for free.
When your WordPress is ready, you'll be prompted the most important information about your installation. Your blog's admin page will be accessible at http://yourdomain/wp-admin. Navigate to that page, and log in with your previously entered credentials.
Good news, your food blog is already up and running. All you need is to install a theme to make it look nice, and start blogging.
Starting a Food Blog #4: Set Up Your Theme
A theme is like a dress to your blog. If you look at your new blog right now, it's working, but it's pretty simple. Time to dress it up!
Choose Your Food Theme
For your WordPress food blog, you can choose from free and premium themes. The only thing you need to keep in mind is that installing a food theme or recipe theme is strongly recommended.
Here are a few tips to find the best food theme for your new blog:
Install Your Theme
To install your theme, go to your WordPress admin panel. Click "Appearance » Themes", then hit "Add New".
You can browse free themes here, or simply enter the name of your preferred theme at the search box in the upper right corner.
First hit "Install", and your theme will be downloaded and installed automatically.
Once finished, hit "Activate" to use the selected theme.
That's all. Your food blog with your nice theme is live, and you're ready to publish your first article or recipe.
Starting a Food Blog #5: Write And Publish Your First Post
Believe it or not, you're really ready to write and publish your first blog post.
On your WordPress admin panel click "Posts » Add New".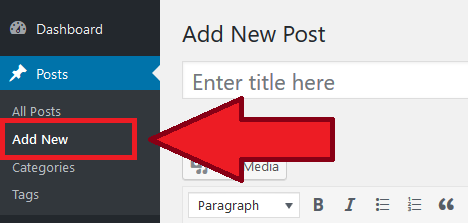 WordPress comes with an easy-to-use visual editor, so you can write your posts or recipes as you would do in a word processor.
Give your first post a nice title, and start typing the text. You can use a lot of formatting options, and easily add some pictures to your posts to make them stand out.
Here is an example of a first blog post that you can publish literally in a minute: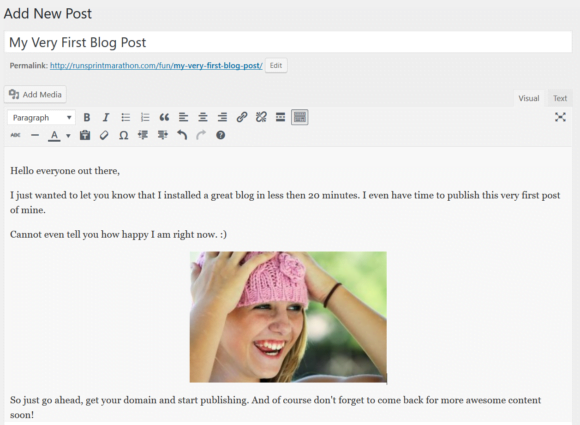 As an extra, you can set a featured image or thumbnail picture to your blog post. This will be the picture that people see on your homepage, and at the top of your post.
You can find this option at the bottom right corner. Simply click on "Set featured image", and upload or select the image that best describes your post.
Simply hit "Publish" (upper right corner), and your first blog post goes right live.
One more advice though. After publishing your first post, go back to "Posts » All posts". Find and delete the very first post WordPress created for you during installation. It is titled "Hello World!"
Visit your brand new food blog by clicking on the small house icon in the upper left corner.
Congratulations! You've learned how to start a food blog, and created your very first blog post in less than 20 minutes!
P.S. Is This All You Need To Know?
Of course not. Though it is very motivational to see your first post in a few minutes, you'll immediately start to think on how to improve your food blog.
The easiest thing is to go to "Themes » Customize", and try all the possible setting of your theme.
And don't forget, Your food blog only stays live if you keep on publishing. Don't worry about the content or the quality at the beginning. Believe me, no one is proud of their first blog posts. 🙂
Tweaking your website, installing plugins for more functionality, learning how to get visitors from search engines are also important. Read my WordPress Initial Setup Tips and 11 WordPress SEO Tips to give a kick start to your food blog.
Good luck with food blogging!