The world Famous Flying Culinary Circus presented an extraordinary dinner at Aria Hotel Budapest High Note SkyBar restaurant, organized by the Norwegian Embassy Budapest.
We had the opportunity to taste the best Norwegian salmon prepared on site by the world famous chefs, together with Gábor Ferencz, Michelin Guide recommended chef of High Note SkyBar.
Norwegian Salmon
An extraordinary venue (see below) and an extraordinary culinary experience – that's exactly what Norwegian salmon had to offer to us this night. I personally have to say that tasted the best salmon dish in my whole life.
Chef Michael Valborgland prepared his salmon in an oven at 50 degrees C (122 F) until its core temperature reached 48 C (118 F). The fish was done, but it felt like you've been eating fresh salmon, which was amazingly juicy and full of flavors. He presented his salmon with lemony avocado purée, cucumbers, apple, fennel and radish.
High Note SkyBar Restaurant at Aria Hotel Budapest
Extraordinary experience, breathtaking view in the center of Budapest, from the High Note Skybar literary on the roof of this wonderful hotel. Just beside the Basilika, you have a 360 degrees view on top of the whole city, with the famous Buda castle and the mountains, and also the colorful rooftops and nice buildings of Pest.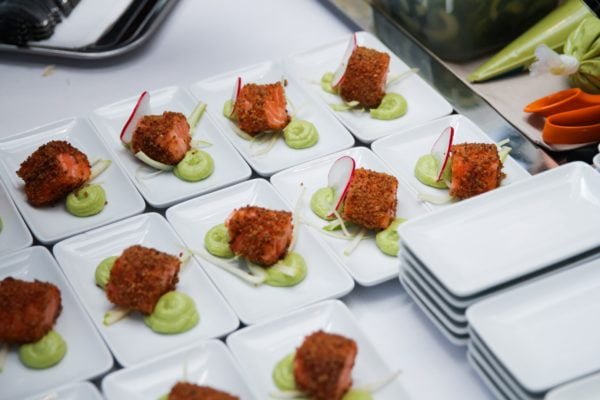 Photo credit: Norwegian Embassy Budapest and Balázs Szilágyi. Video: Balázs Szilágyi