The best pan for deep frying would be deep enough (at least 4 inches or 10 cm deep, but the deeper the better), large enough (at least 8 inches or 20 cm in diameter) so the oil inside wouldn't loose much of its heat when the cold food is inserted, and made of a sturdy material so it can deal with the high heat we are using in this type of cooking.
Technically every deep skillet, saute pan or large pot would be useful for deep frying, ideally made from steel, stainless steel or cast iron. So if you have such a pot or pan at home, you can safely use that for preparing your deep fried food.
Make sure you use a high smoking point oil (e.g. canola oil, peanut oil, sunflower oil). Never use extra virgin olive oil for deep frying!
But if you are looking for a new pan which is ideal for deep frying, check out our recommendations.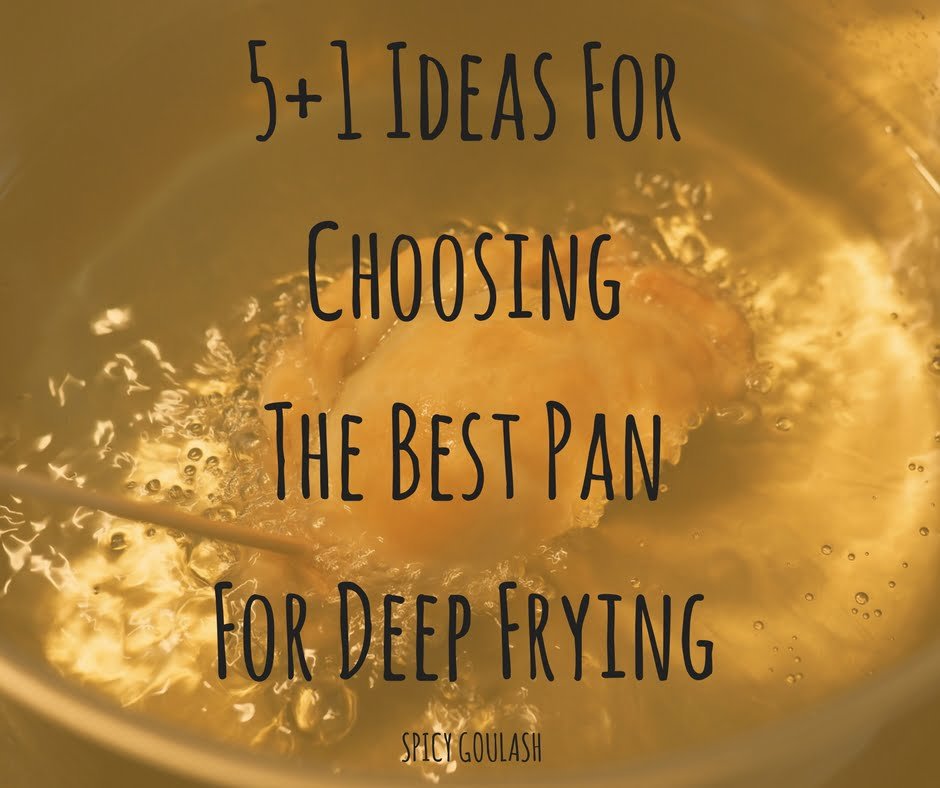 Best Pan For Deep Frying #1: Cook N Home Non-Stick Deep Sauté Fry Pan
This is actually a versatile non-stick frying pan, that can be used for many other applications than deep frying. It comes with a glass lid which can be very useful when dealing with hot oil.
Best Pan For Deep Frying #2: handy helpers Deep Fryer Set
In my opinion this is the best recommended solution for a deep fryer at home, I use a very similar pan for deep frying.
Despite some negative reviews on Amazon, this deep fryer has has everything you need to prepare your deep fried foods. It is large enough, deep enough, and it also comes with a fryer basket which makes it extremely easy to handle your food.
Some people in the reviews are concerned about this pot needing a lot of oil. Of course it needs a lot of oil, we are talking about deep frying, aren't we.
The basket actually helps you so that your food won't be in contact with the bottom of the pan, thus preventing it from burning. And yes, this means that you'll have a layer of oil between the bottom of the pan and the bottom of the basket, needing more oil. But this is actually something that makes your deep fried food even better.
So don't worry, just go ahead and order this set and it will be a great help when deep frying anything.
Best Pan For Deep Frying #3: KitchenAid Hard Anodized Sauté Pan For Induction Tops
If you have an induction top, finding the best pan is actually harder than you think. Your cookware must be induction compatible, and sadly most of them are not.
KitchenAid's hard anodized suté pan is a must have if you are using an induction stove. This triple-coated nonstick pan will serve you for a variety of food, and is also oven safe.
Best Pan For Deep Frying #4: Lodge Heavy-Duty Cast Iron Dutch Oven
This one is actually a 3 in one solution. You get a dutch oven, a deep frying pan, and its cover can be used as an extra skillet.
Cast iron has plenty of advantages. The most important is it's very high volumetric heat capacity. What it means is once it's hot, it stays hot. Thus when using it for deep frying, you must take special care because of all the heat it absorbs.
Other than that, a dutch oven is one of the best ideas when looking for a deep frying pan. Try this and you'll love it!
Best Pan For Deep Frying #5: Simply Calphalon Nonstick All Purpose Pan
As it's name suggests, this is again an all purpose pan. What this means is that you can use it for several other tasks in your kitchen than just deep frying, and might become the most versatile item in your kitchen.
This can be used as a wok, a dutch oven, sauté pan or even as a mixing or salad bowl or a beer cooler. And of course, as a deep fryer.
Idea For Deep Frying Pan +1: Lodge Deep Fry Basket
A very simple solution to convert any pot into an ideal deep fryer. This frying basket from Lodge fits all 12″ diameter pots. Once you have this item in your kitchen, you can use any of your pots as a deep fryer.
Two Extra Tips For Deep Frying Cookware
Be sure you always have paper towels at hand.
For a really professional solution, use a wire rack to drain off the excess oil.
I hope these recommendations help you find the best product. Good luck with your deep frying!