There is no accounting for taste; Nothing is more true than this phrase for the great variety of Hungarian layered potato recipes. It's safe to say that layered potatoes are made in almost every Hungarian households at least few times a year. And it's also safe to say that there are no two identical layered potatoes recipes.
My Favorite Layered Potatoes Recipe
Different versions vary from the very light, vegetarian ones to those with a dominant sausage flavor. I prefer my layered potatoes with sausage but with a lighter flavor, and this is where bechamel sauce comes handy. And of course a lot of sour cream, which I think is the only common ingredient in all Hungarian layered potatoes recipes, apart from potato and eggs.
Tips For Flavorful Layered Potatoes
Making layered potatoes is not complicated. What makes it relatively messy and time consuming is that you have to cook every ingredient first, than layer them in a pan and bake them together. When you put so many effort into a relatively simple dish, you really want it to indulge on your senses.
Here are a few tips to make your layered potatoes dish super-flavorful:
Don't be stingy on the salt. I know that it's not in fashion these days to use too much salt, but salt is not bad for your health (on the contrary, your body needs salt in order to work properly). And there is nothin worse than unsalted potatoes, eggs and bechamel, especially when all these are put together. Use enough salt in your bechamel sauce and between each layers of potatoes and eggs.
Don't be stingy on anything else than potatoes. Eggs, sausage, bechamel sauce and sour cream give the real taste of this dish. Sausage fat is thus used as a seasoning and not discarded.
For this recipe you need a relatively thick bechamel sauce. This way it will hold the layers together even after mixing in sour cream.
Breadcrumbs sprinkled on top give an unexpected yet pleasant crunchiness to this dish.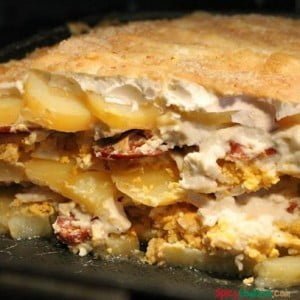 Layered potatoes with bechamel sauce
A yummy recipe, potatoes layered with eggs, sausage and béchamel
Ingredients
5 ½

lbs

potato

(2.5 kg)

2

lbs

Hungarian dry sausage

(750 g) see tips

3 ½

cups

milk

(850 ml)

¾

stick

butter

unsalted (85 g)

11

tbsp

flour

2

tsp

salt

¼

tsp

ground nutmeg

¼

tsp

ground black pepper

4 ⅓

cup

sour cream

12

tbsp

breadcrumbs

optional
Instructions
Boil unpeeled potatoes in salted water for 30 minutes, drain them and let them cool. Peel the potatoes and cut them in 1/5-1/4 inch (5-6 mm) slices.

Boil eggs for 8 minutes, let them cool with cold water. Peel them then shred them.

Preheat oven to 395 F (200 C).

Peel and cut sausage in medium-thick slices. Fry sausage slices in a frying pan for about 5 minutes over medium heat.

Prepare the béchamel sauce. Melt butter in a saucepan over medium heat, add flour and let it cook for 2-3 minutes. Pour in hot milk while whisking constantly and vigorously. Lower the heat and let the flour cook for 2-3 minutes while constantly stirring. Season with salt, ground nutmeg and black pepper. Let it cool a couple of minutes then mix in 1 ½ cups sour cream.

Place down 1/3 of the potatoes as the first layer in a lightly greased, 9 by 13 inch (approx. 25×35 cm) baking dish. Salt potatoes according to taste.

Follow with 1/2 of the eggs, spread evenly and salt according to taste.

Sprinkle with 3 tbsp sausage fat, spread 1/2 of the sausage evenly then cover with 1/2 of the bechamel sauce.

Make a second layer just like the first one. 1/3 potatoes, salt, 1/2 (remaining) eggs, salt, 3 tbsp. sausage fat, 1/2 (remaining) sausages and finally 1/2 (all remaining) bechamel sauce.

Finish with a layer of the remaining potatoes, then spread the remaining sour cream and finally sprinkle with breadcrumbs.

Bake for 40 minutes uncovered.