This tasty and very easy tomato sauce is an excellent, fast topping for any kind of Italian pasta. It only takes 5 minutes to prepare the ingredients, and it's ready in 30 minutes.
This easy tomato sauce is fresh, tasty and a far cry from canned or processed tomato sauces. You can use it as is for a fast Italian pasta-dinner, or you can enrich it with other ingredients to make a large variety of sauces (e.g. tuna sauce, vegetable sauces).
Easy Tomato Sauce Recipe
Peel and cut your vegetables. Make a purée of the carrots, onions, celery and 2 cloves of garlic in a blender.

Tip: For an even easier version, you can just use and onions, and it'll still taste great.

Sauté the vegetables in the olive oil for about 10 minutes, until they lose their water content.

Add tomato purée (passata di pomodoro) and remaining 4 cloves of garlic and let it simmer for 15 minutes in a low heat. The longer you cook, the better it gets. But for a fast meal it's totally OK to simmer just for 15 minutes. Add salt, pepper, basil and oregano to taste.
How To Serve Your Easy Tomato Sauce
This easy tomato sauce is an excellent topping for any kind of Italian pasta by itself. You can also enrich it with almost anything you like, and you get your own, Italian pasta dinner.
Once it's ready, add some olives, canned tuna, top it with some grated Parmesan cheese, and you get an amazing pasta dish in no time. The best of all: no one will tell you it took only a few minutes to prepare.
As you can see in the second picture below, I served it on pipette rigate paste, adding some olives, blue cheese and grated Parmesan cheese.
My advise is to make a large quantity of this easy tomato sauce, and store it in your freezer in small plastic containers. This way you can have fresh pasta dinner in 10 minutes. I guarantee you it's much better than any kind of processed food. This is the traditional Italian way to make pasta sauces; store a large quantity in the freezer and use it every night for their famous "primi piatti" pasta dishes.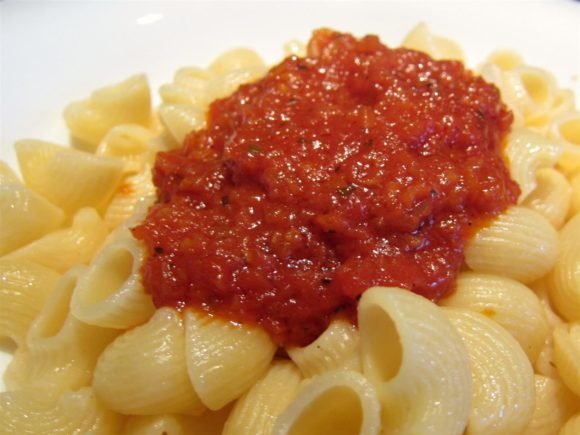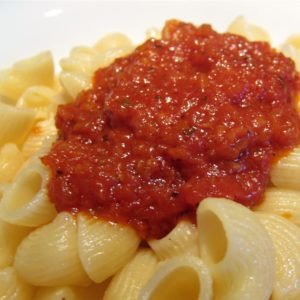 Easy Tomato Sauce
Ingredients
2

onions

medium-sized

2

carrots

medium-sized

2

stalks

celery

2

cups

tomato purée

600 g, passata di pomodoro

6

cloves

garlic

4

tbsp

olive oil

pepper

to taste

salt

to taste