Cottage Cheese Spread has it's own name in Hungarian cuisine: körözött [pronounce "ö" like "ea" in early]. It means literally "garnished", referring to the cottage cheese being garnished with lots of spices to improve it's flavor.
Cottage Cheese Dip Variations
There are as many variations of cottage cheese dip in Hungary as there are households. The common ingredients are cottage cheese (cow's milk or ewe's milk or both), sour cream and caraway seeds. You can add many other spices, even fresh herbs, but paprika is also a very common ingredient. Some people add butter, but I think this is not necessary to get a smooth and rich dip.
As far as the type of cheese, the flavor of this dip can differ a lot if you add sheep cottage cheese. I prefer it with a strong flavor – sheep cottage cheese is just perfect for that. But don't worry if you can't find it near you, this cottage cheese dip is as good if made from regular cow's cottage cheese.
Sometimes much more paprika and/or caraway seed is added. In my opinion the proportions in this recipe make this dip light, and you can enjoy the taste of cottage cheese and that of the spices. But of course you can make it stronger just by doubling (or even tripling) the amount of paprika and caraway seed used. Also sometimes whole caraway seeds are added, this is again only a matter of taste.
Try my cottage cheese recipe below, and feel free to alter it to your taste!
US readers please read my notes on cottage cheese conversion.
Non-US readers please note that pinch here equals standard US pinch, approx. 0.625 ml or 1/8 teaspoon.
Hungarian name: körözött.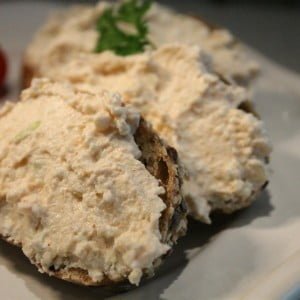 Cottage Cheese Dip with Sheep Cottage Cheese: körözött
Popular Hungarian cottage cheese spread
Ingredients
1 ½

cup

cottage cheese

(250 g)

1

cup

sheep cottage cheese

(200 g)

3

pinch

salt

6

tbsp

sour cream

3

pinch

Hungarian paprika

3

pinch

ground caraway seed

8

tsp

finely chopped onion
Instructions
Chop the onions finely.

In a large bowl, break the cottage cheese and sheep cottage cheese. Add sour cream and mix.

Add all the spices: salt, paprika, caraway and chopped onion.

Taste and season if necessary. It has a strong onion flavor that will tone down. Put it in the fridge for 2-3 hours before serving (if you can wait) 🙂