Ginataang Talong is an authentic Filipino salad dish that will surely give your meals a tropical twist. It is a complimentary salad to any meat dish, specifically grilled dishes because of its sour and sweet flavor with its milky goodness from the coconut milk.
Some versions of Ginataang Talong call for chili, while others plainly use a vinaigrette mixture. But for this recipe here, we will be adding coconut milk to make it even more exotic.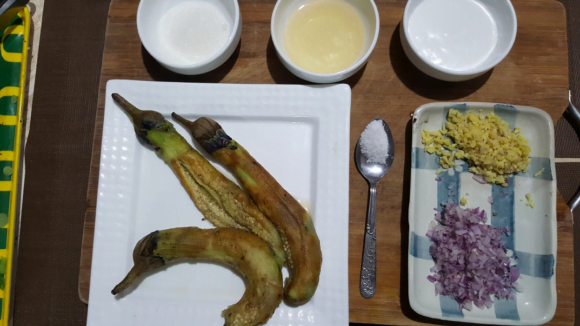 Ginataang Talong Salad Recipe
In an open flame (you can use your stove directly), grill the eggplant until its skin turns black. Make sure to not remove the stalk yet as it will make it easy for you to turn the vegetable and how an even cook on each side.
Then soak in water to cool, and carefully remove the burnt skin. Rinse with water.
Cut the stalks of the eggplant and cut it into 3 inches length and set aside.
In a bowl, add the vinegar, sugar, salt, ginger, and red onions. Mix until the sugar and salt are thoroughly dissolved. Once dissolved, add the coconut milk and stir for another minute.
Mix the eggplant in the dressing until all the ingredients are incorporated.
This Ginataang Talong salad goes well with grilled meat dishes.
Serve and enjoy!