Polenta is a well known traditional Italian dish of boiled cornmeal. It can be served as a hot porridge, or left to solidify. In this latter case, polenta is then cut in slices before serving. The slices can be baked, fried or grilled, giving it an extra taste.
Polenta is very easy to make at home, you basically cook cornmeal in water. The only thing that makes it more difficult is that you have to stir it almost constantly during 50 minutes. It is a nice, gluten-free, vegetarian and vegan addition to your diet.
Polenta Recipe
In this recipe I show you how to make polenta at home that you can cut into slices. This goes very well with roasted meat, like my rosemary pork loin.
Please read my remarks on the ingredient amounts below this recipe. I give you exact amounts in both US and metric units.
Bring the water to a boil in a large pot.
Once boiling, add salt and oil. Reduce heat to low.
Add your cornmeal in smaller batches while stirring constantly.

If you add the cornmeal at once or even in larger batches, your polenta easily becomes lumpy.

Cook your polenta for 50 minutes, stirring almost constantly.

You don't have to stir it literally constantly, but make sure you stir it every minute to prevent it from burning or sticking to the bottom of your pot.

Pour your cooked polenta onto a large cutting board and let it cool and solidify for 10 minutes.
Cut it in 3/8 inch (1 cm) slices.

To slice your polenta, you can use a sharp thin blade knife. But the traditional method in several places is to use sewing cotton thread. You take about a foot long piece (30-35 cm), twist one end on a finger of your left hand, the other end on a finger of your right hand. Then straining the thread, you can use it as a knife to cut the slices. If needed, use light right-and-left motion while cutting.
Note To The Ingredient Amounts
In the US, cornmeal is usually shipped in 24 oz (680 g) packages, while in Europe we use 500 g or 1 kg packages. In order to being able to make polenta from one pack of cornmeal, I give you the ingredient amounts for both systems.
Please note that here I use Himalayan salt, where 1 tablespoon is about 23 grams. Regular table salt is more dense (about 18 grams per tablespoon), so you need less if usint that.
| Polenta Ingredient | US units | Metric units |
| --- | --- | --- |
| Cornmeal | 24 oz (680 g, 4 1/2 cups) | 500 g (3 1/3 cups) |
| Water | 11 1/3 cups (2720 ml) | 2 liters (8 1/3 cups) |
| Salt (Himalayan) | 1 1/3 tbsp (31 g) | 1 tbsp (23 g) |
| Extra virgin olive oil | 1 1/3 tbsp | 1 tbsp |
Frying Your Polenta
The easiest way to kick your polenta up a notch is to fry the slices in a pan before serving.
Heat up 1-2 tablespoons of oil in a large pan on high heat. Add your polenta slices. Fry for 3-5 minutes on each side, until you get the desired color.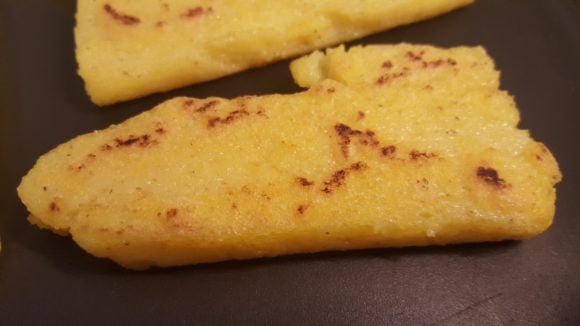 International Variations Of Polenta
This dish is known worldwide with it's Italian name: polenta, from the central and northern regions of Italy. But the same dish, or with small variations, is prepared and server throughout various countries in central and eastern Europe; Hungary, Romania, Slovenia, Bulgaria and Ukraine.
In Hungary and in Hungarian-speaking parts of Transylvania this dish is called puliszka (pronounced pooliska), and has a long tradition of being prepared as a cornmeal porridge. Interestingly, this simple dish sank almost into oblivion during the second part of the 20th century, but has become popular once again as a fancy Italian meal. Lots of people in Hungary use the name polenta for this dish nowadays, even if we have our own word for it.