Pizza is an all time favorite food all around the globe. But what if you could make your best Italian pizza at home? That's exactly what you get here: a very popular, authentic Italian homemade pizza dough recipe.
This recipe is the first of my 4-part How to make homemade pizza series (1. Making the dough; 2. Shaping your pizza dough; 3. Pizza sauce and toppings; 4. Baking your pizza). In this first step I'm going to show you how to make the best authentic pizza dough at home.
Next step: How to shape pizza dough »
Homemade Pizza Dough Recipe
This pizza dough recipe makes 6 regular (12-14 inch or 30-35 cm) homemade pizzas. If you need measurement for different servings, check out my pizza dough ingredients table by clicking on the link or see it below this recipe. For a small pizza (8-9 inch or 20-22 cm), use half the amount.
Start making your pizza dough by measuring out your dry ingredients. Add flour, active dry yeast, sugar and salt to a large mixing bowl.

I'm using Himalayan salt here, that's where the pink color comes from.

Add olive oil and lukewarm water.
Using your dough hook, knead your pizza dough for 10 minutes.

The perfect pizza dough should be completely smooth. It shouldn't stick to the side of your bowl, but still feel a little bit wet when you touch it.

Please note that all measurement cups are slightly different, and your flour humidity can also affect how your pizza dough turns out. Adjust ingredients accordingly to get the desired consistency (see above).

Place your dough in a large bowl, previously oiled with about 1-2 tbsp extra virgin olive oil. Move it around with your hand so that all parts should be covered with oil.
Let it proof for 90 minutes under a lid.
After 90 minutes, push the air out of the dough.
Cut the pizza dough into equal pieces – 1 for every pizza. For the amounts in this recipe, cut it into 6 equal pieces.

If you use a scale, it's easier to have the same size pizza dough for each of your homemade pizzas. This recipe yields about 1700 g (60 oz) pizza dough in total. You need 280 g (10 oz) of dough for a regular size pizza, and 140 g (5 oz) for a small pizza.

Form a ball from each of the dough pieces. Start by making a circular motion with the palm of your hand, with some pressure. Then release the pressure gradually until you get a nice ball shape.
Put your pizza dough balls on a lightly floured work surface. Dust them with some more flour, an let them proof covered with a kitchen towel for another 15 minutes.
Your pizza dough is now ready to be shaped and baked – of course with your favorite toppings and the best pizza sauces. For the next step in the How to make homemade pizza series click here: How to shape pizza dough ».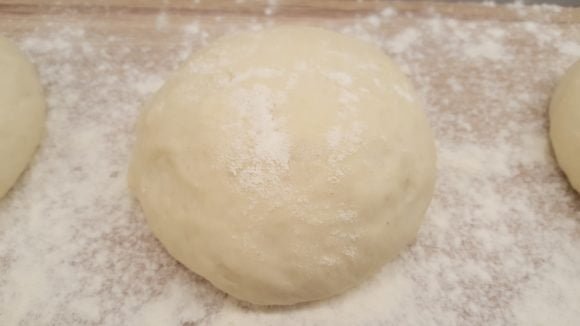 Tips For Making Pizza Dough at Home
Some recipes tell you to use bread flour for your pizza dough. While that obviously wouldn't hurt, I find that using regular all purpose flour, you'll also get fantastic crispy homemade pizza that everybody will love. Of course if you think, you can use bread flour or type 00 flour for your pizza, like the popular Antimo Caputo 00 Pizzeria Flour.
For the best results, you should definitely use a scale. I tried to give you the exact cup measurements, but when making a bread dough (pizza dough is a type of bread dough) going by weigh is a pro tip.
Italians use fresh yeast for their pizza dough. In fact this was the first time I used the active dry one, only to be able to publish this recipe. As my personal experience, I would say both versions turned out to be great. The one with the dry yeast was more easy to stretch, and it yielded larger pizzas.
I find pizza dough is best if you let it rest for 2-4 days in the fridge after being proofed.
Pizza Dough Recipe – Different Servings
In this table I give you the exact amounts for 1, 2, 3, 4, 5 and 6 pizzas.
| | 1 pizza | 2 pizzas | 3 pizzas | 4 pizzas | 5 pizzas | 6 pizzas |
| --- | --- | --- | --- | --- | --- | --- |
| Flour | 1 1/3 cups | 2 2/3 cups | 4 cups | 5 1/3 cups | 6 2/3 cups | 8 cups |
| Active dry yeast | 1/4 tbsp | 1/2 tbsp | 2 1/4 tsp | 1 tbsp | 1 1/4 tbsp | 1 1/2 tbsp |
| Extra virgin olive oil | 2/3 tbsp | 1 1/3 tbsp | 1/8 cup | 2 2/3 tbsp | 3 1/3 tbsp | 1/4 cup |
| Lukewarm water | 3/8 cups | 3/4 cups | 1 1/4 cup | 1 2/3 cups | 2 cups | 2 1/2 cups |
| Sugar | 1/3 tsp | 2/3 tsp | 1 tsp | 1 1/3 tsp | 1 2/3 tsp | 2 tsp |
| Salt | 1/3 tsp | 2/3 tsp | 1 tsp | 1 1/3 tsp | 1 2/3 tsp | 2 tsp |
Italian Homemade Pizza Dough Video
Check out this video from the most famous Italian food website Giallo Zafferano (Yellow Saffron) on how to make homemade pizza dough (with English voice-over):